Blue Juice Sailing Yacht for Sale - Beneteau Oceanis Clipper 361 from 2001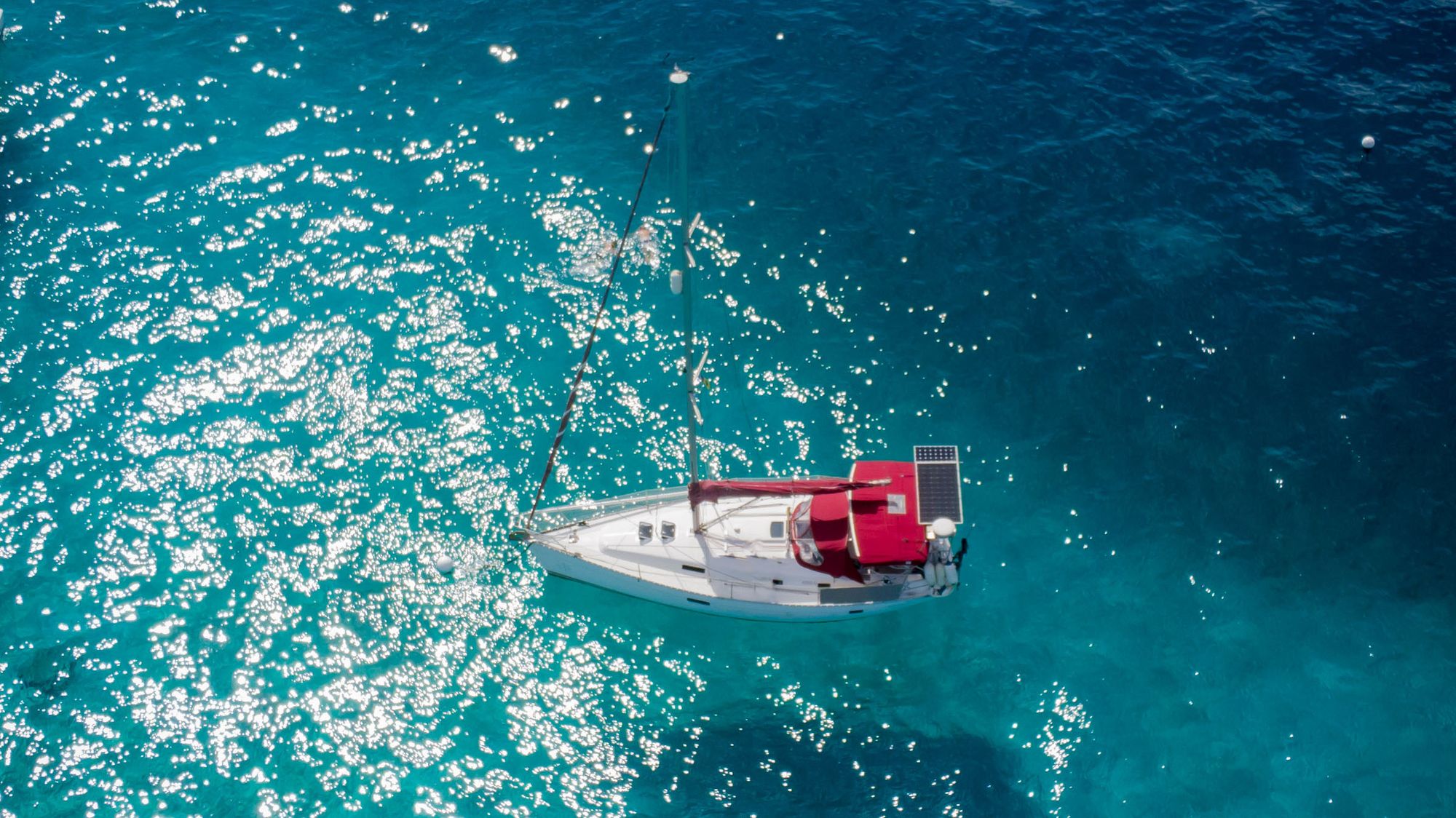 We are selling Blue Juice, our beloved full time cruising home for 4 years and heart of our YouTube channel "see the little things". This boat has taken us from Greece in 2019 across the Med to Spain, Gibraltar, Canary Islands, Cape Verde Islands, to the Windward Caribbean, with no accidents nor damage.
We turned her from a coastal cruiser into a serious offshore capable off grid boat. Our goal was to live off grid for extended periods of time and the list of upgrades is plenty. The bilge is dry.
The boat is currently located in Martinique and we plan to hand her over here. She is ready to go.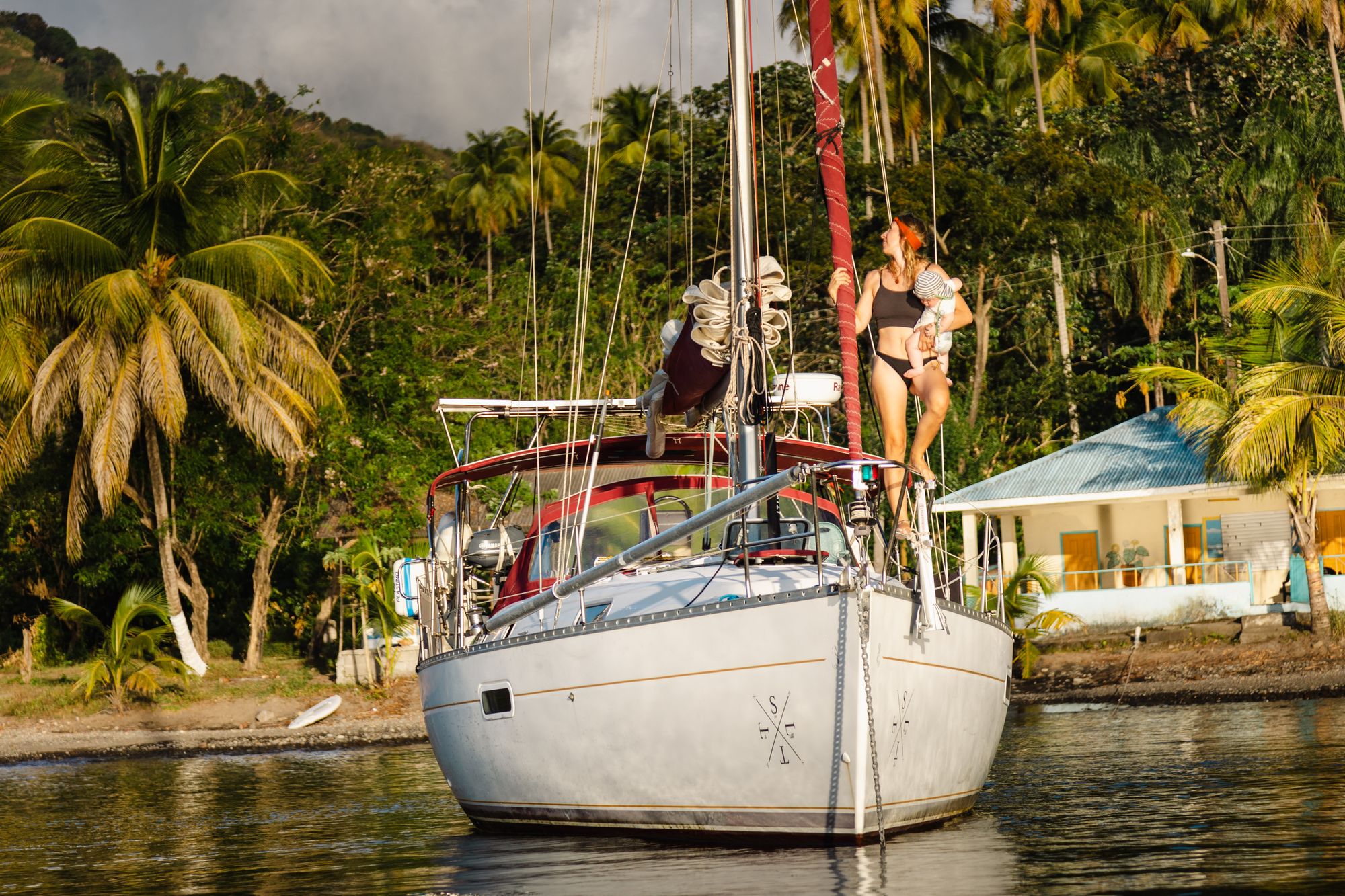 Basic Specification
| | |
| --- | --- |
| Year | 2001 |
| length | 10,80m |
| Draft | 1,55m |
| Beam | 3,80m |
| Height | 15,11m |
| Displacement | 6 tons |
| Rigging Type | Masthead Sloop |
| Engine | Volvo Penta MD-2030 29hp |
| Drive type | Direct shaft |
| Hull material | Fiberglass |
| VAT Status | Paid |
| Asking Price | 85.000 EUR |
Construction
GRP fiberglass hull, deck, and structure
Fin wing keel
Single blade rudder, one part
Wheel steering
Last structural survey 2018
Interior Layout
This boat has an exceptional interior layout making the most of its 36 feet. It has a
full size bathroom with shower area next to sink and heads, lots of storage with IKEA TISKEN solution
a roomy salon with a versatile table setup, two seating areas both big enough to sleep on during passage. Table can be folded down on two sides to make an extra big sleeping space one side
full size navigation table/desk
L-shaped galley with two burner ENO stove, double sink, high tap with integrated carbon filter, big top loading fridge
3 cabins, one forward two aft, while one aft cabin is transformed into big storage area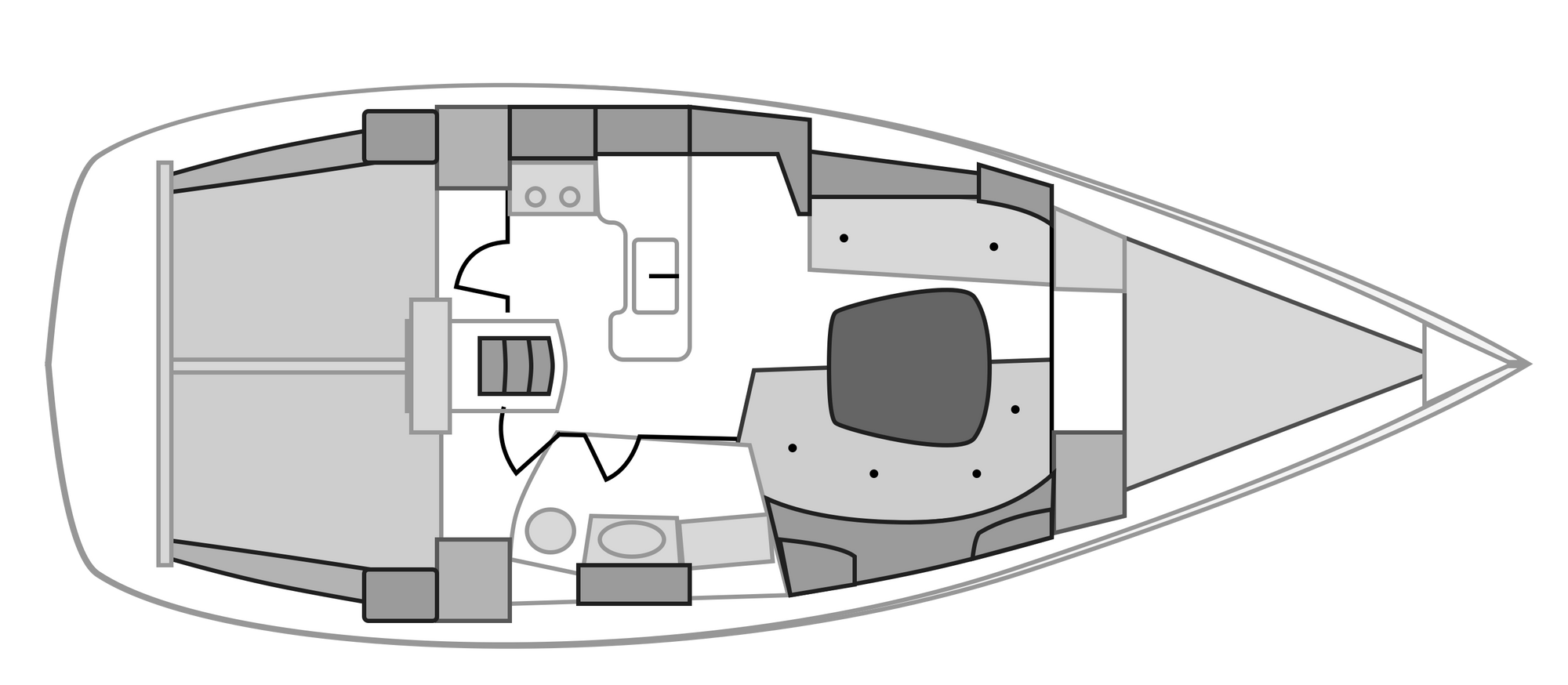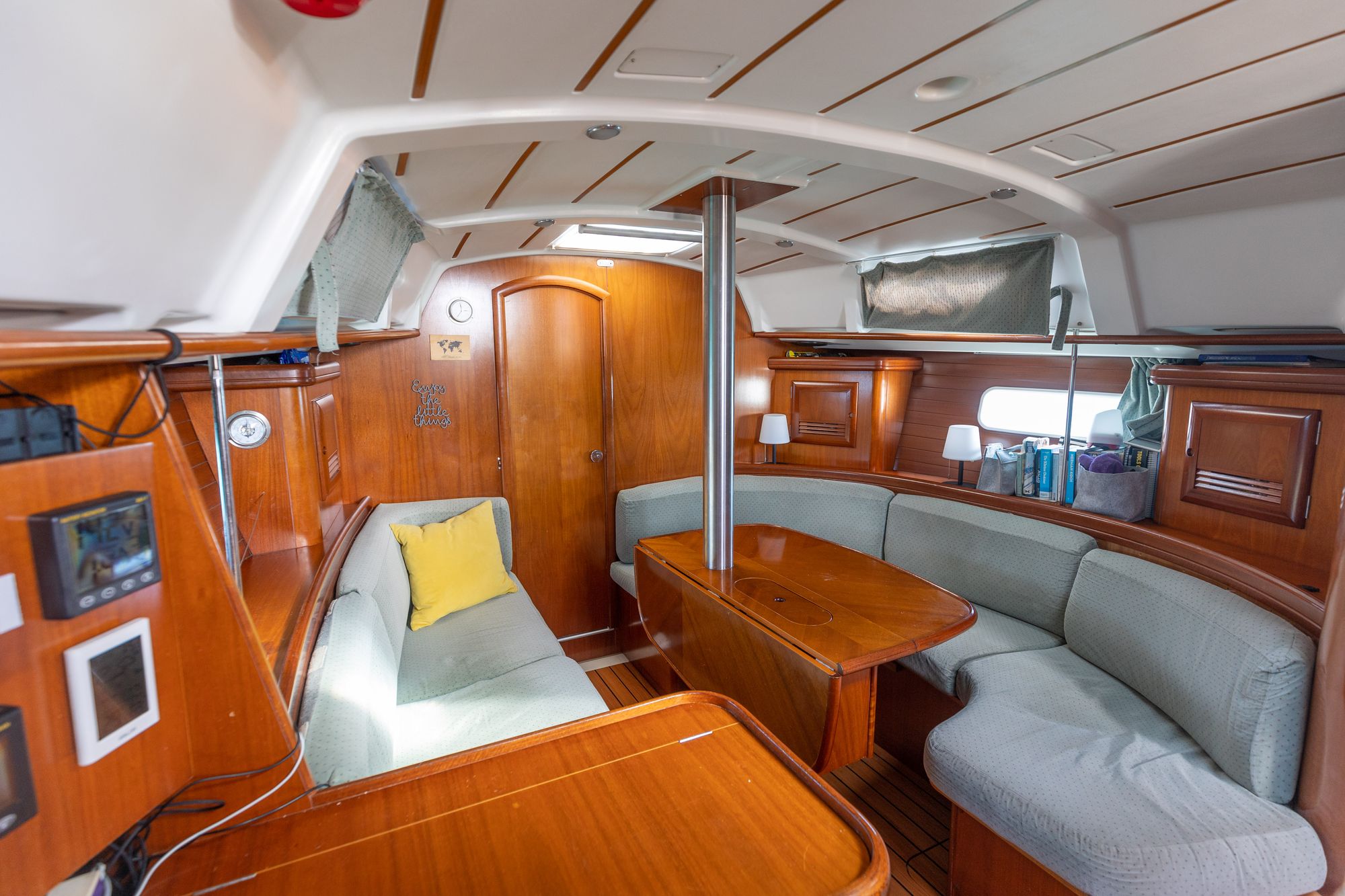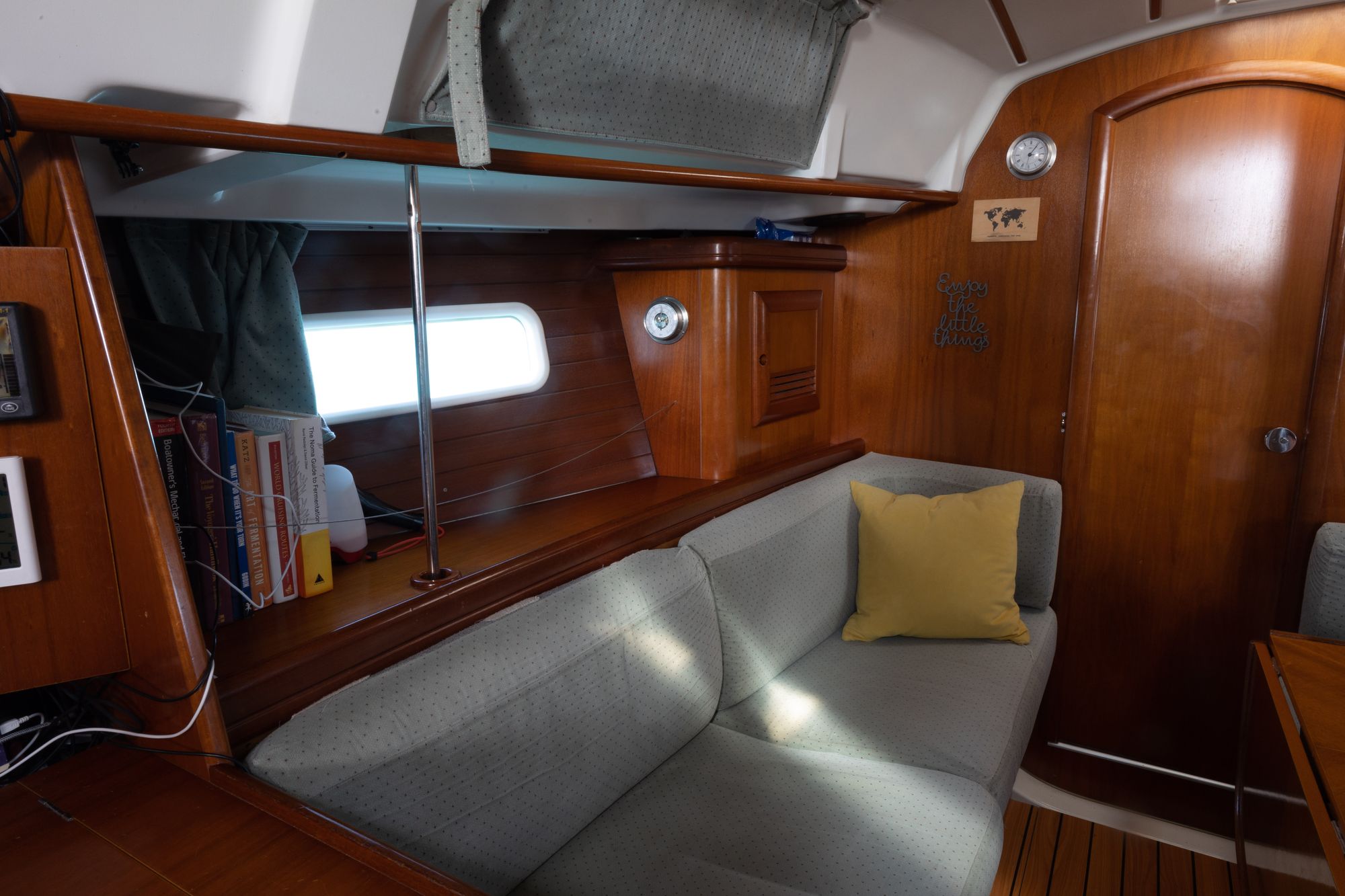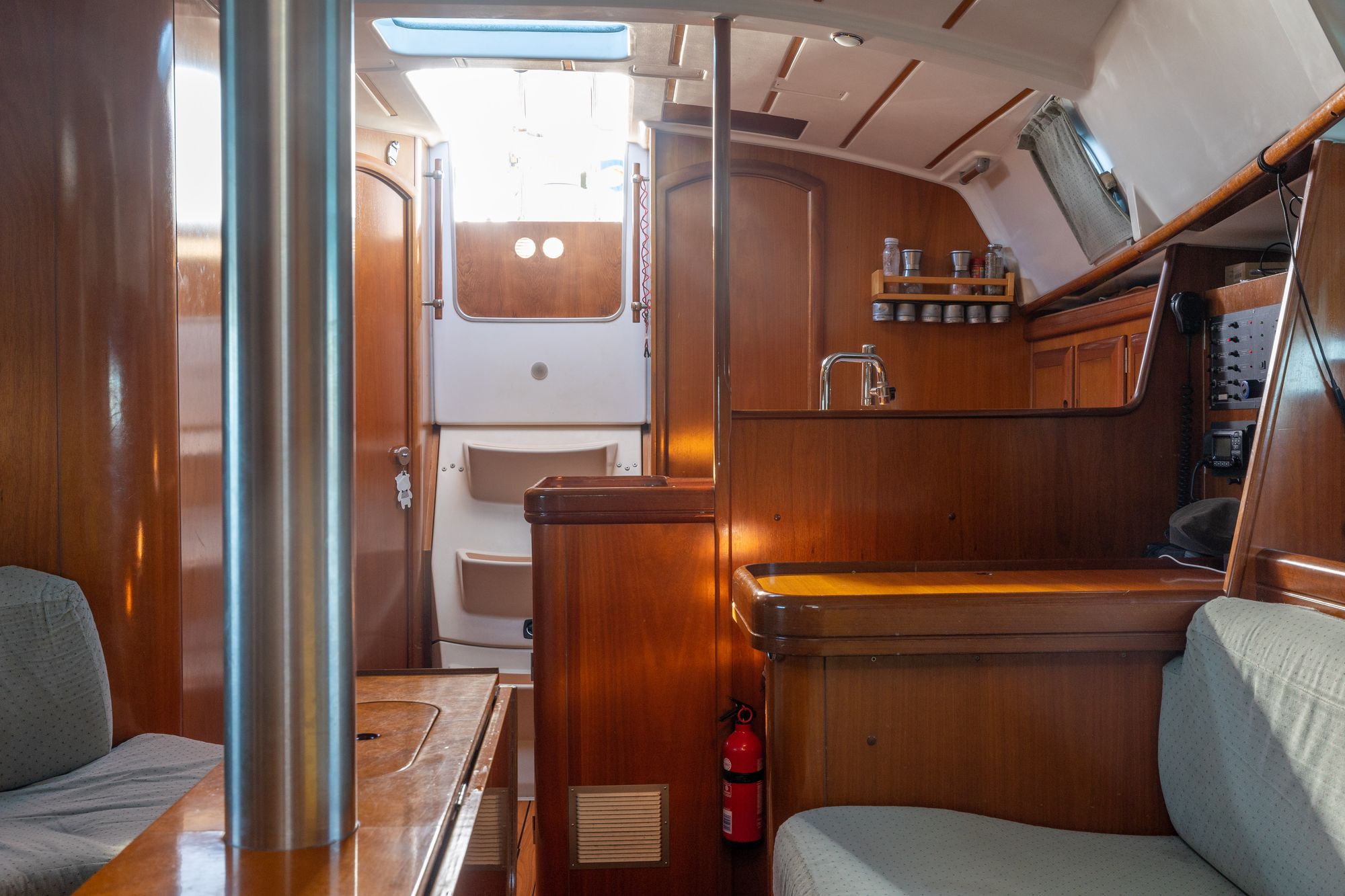 Exterior Layout
All lines, jammers, and winches are accessible from the cockpit, making this boat easy to sail single handed and very easy to sail with crew. It has a battened loose footed mainsail and furling Genoa. The boat comes with a second set of used sails (Mainsail and Genoa) that we mainly carried as backup for the Atlantic crossing.
In 2020, we replaced and installed a full width Bimini that covers the complete cockpit and creates a roomy feel and protected living space on anchor. The spray hood has been serviced and maintained regularly with repairs and reinforcements added in 2019 and new vinyl windows in 2020.

In 2021 we installed a stainless solar arch, carrying a 400W LG bifacial panel, a 90W Lorentz mono panel, a Raymarine RD218 radar and the AIS antenna.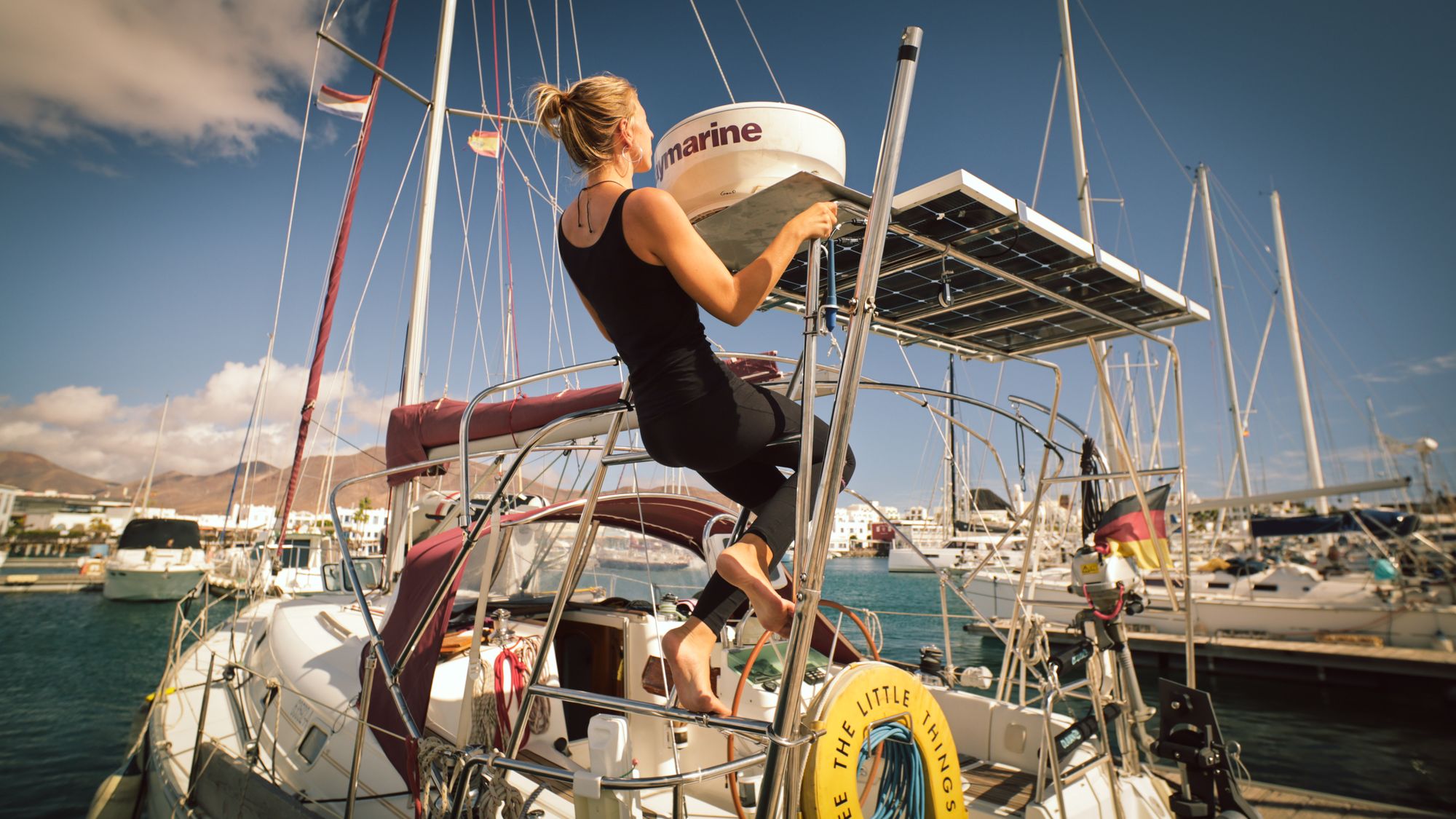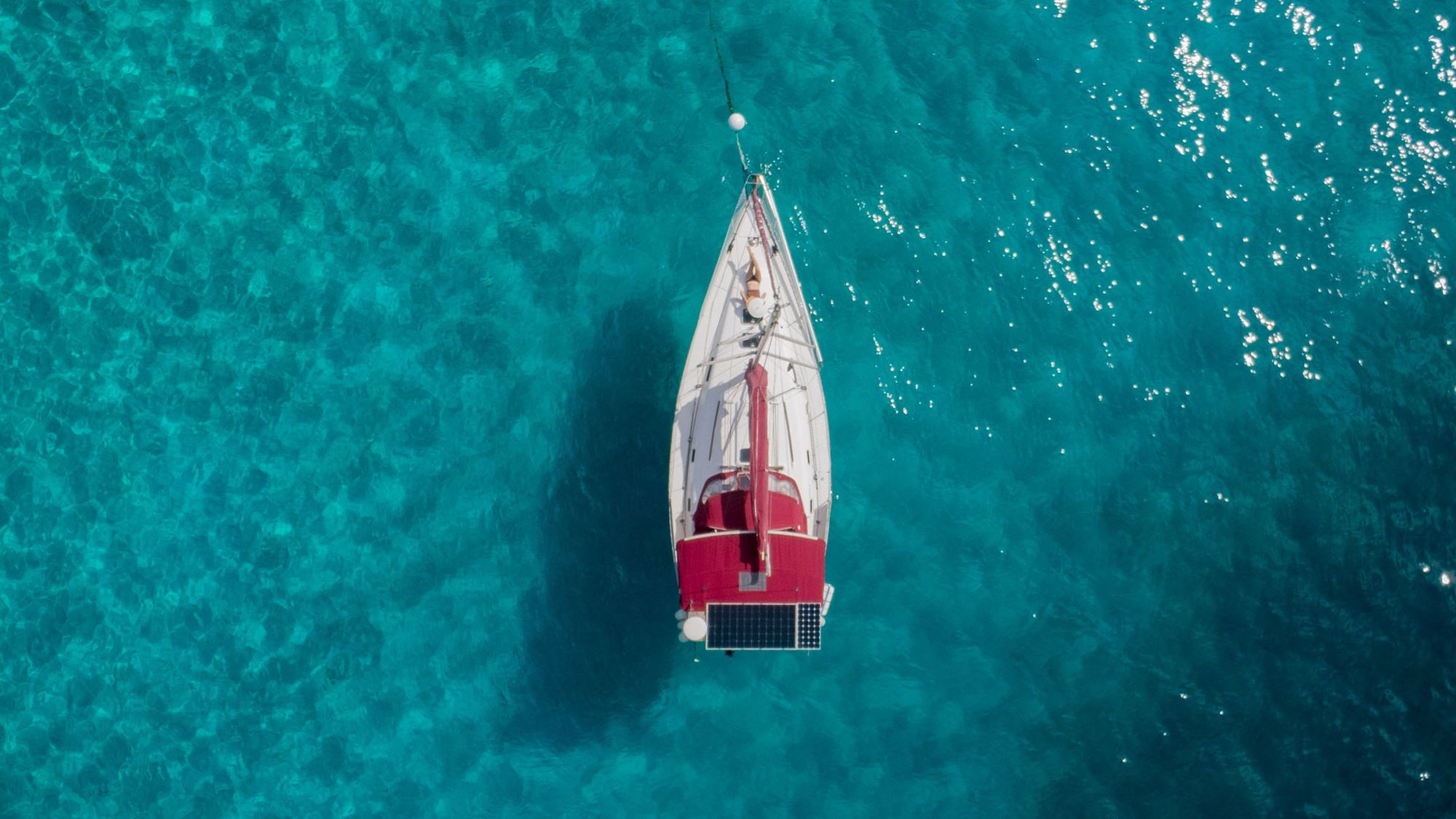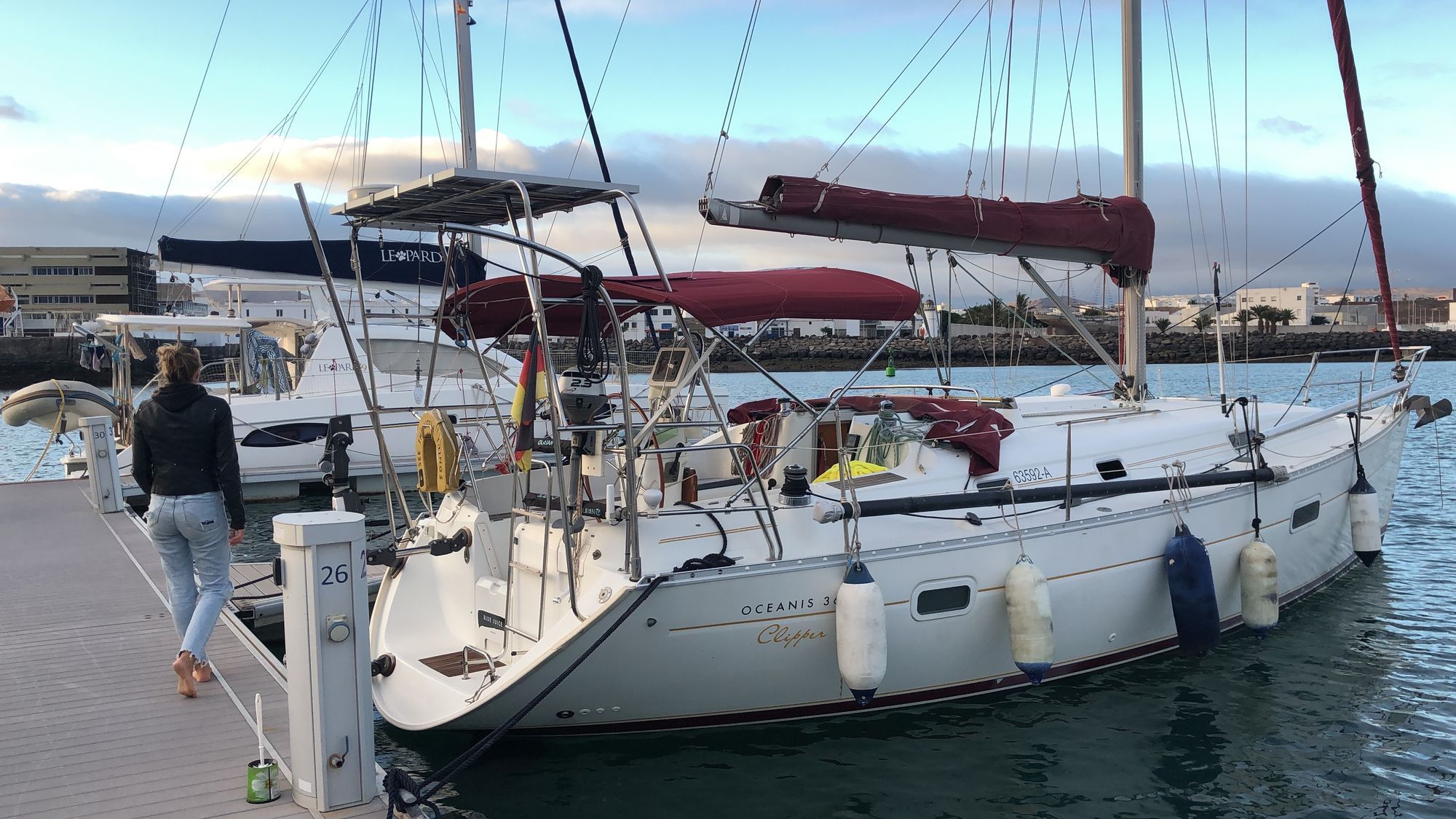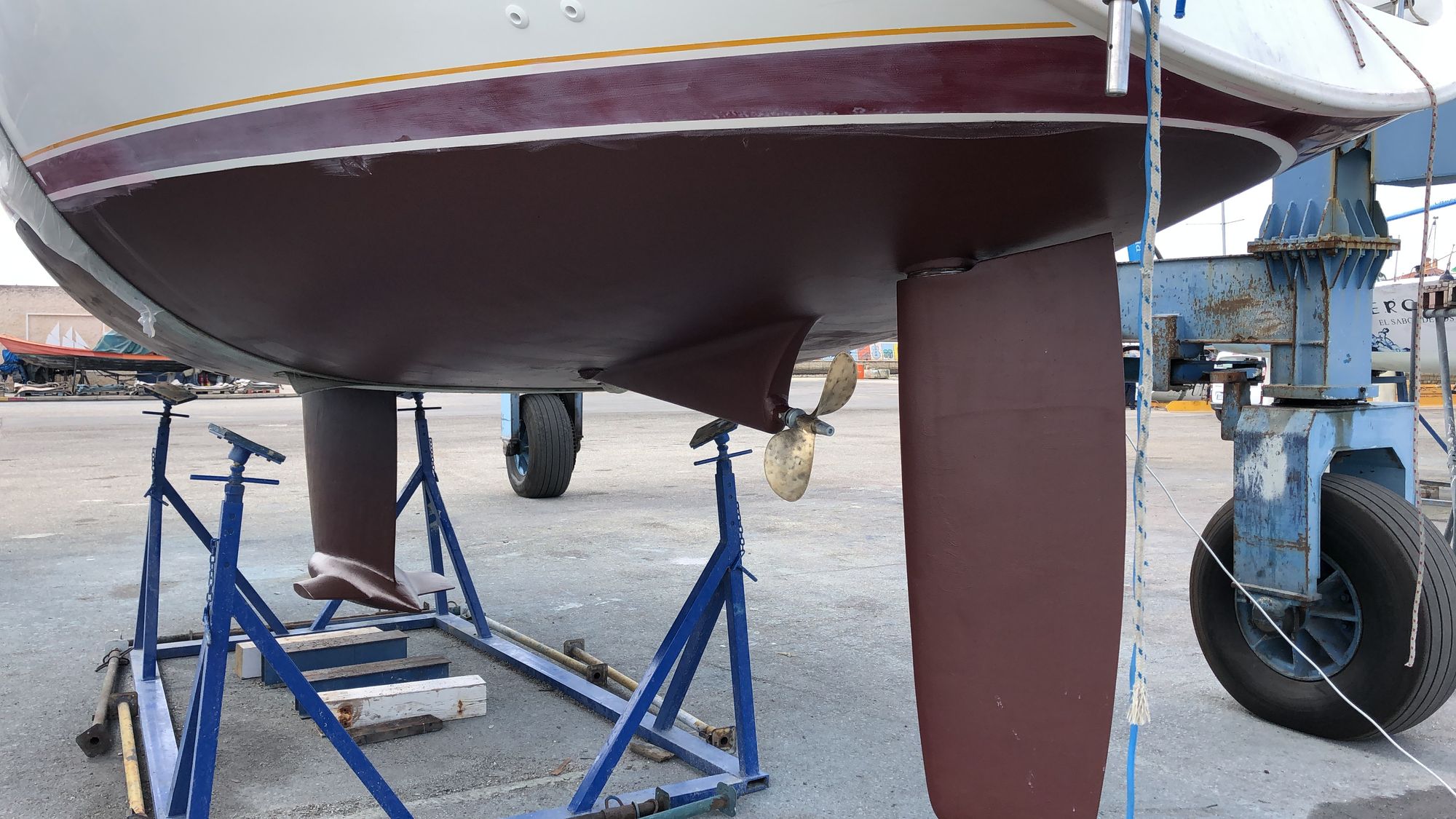 Machinery
Volvo Penta MD 2030 29hp engine (S102139479) original
approx 3800 engine hours
Shaft drive
2 blade bronze prop
Full service 2015 by qualified Volvo approved marine engineers
Inspected by marine surveyor during 2018 purchase survey
Engine serviced each winter since 2014 by previous owners, and each season as well as during season by current full time cruising owners
Heaps of spares onboard: MANN oil and fuel filters, Volvo impellers, Volvo belt, cutlass bearing, Volvo shaft seal
Rig & Sails
Sloop rigged, masthead
Sparcraft mast and boom, aluminium
New forestay in 2017, new remaining standing rigging in 2019. Installed by Waypoint in Lefkas.
Main sail, single line reefing, white of Dacron by Neil Pryde (loose footed) 2014 Serviced by sailmaker and added third reef for Atlantic crossing in 2020
Original Main sail (fixed bolt rope) in very good condition with light use
Genoa, roller furling, white, original, serviced by Sailmaker after Atlantic Crossing
Additional Genoa, bought used from Sail Maker in 2020 meant for backup
New heavy duty mast eye for Spinnaker pole 2021, installed by Alisios in Gran Canaria
New running rigging in 2020: Main halyard, Genoa halyard, Genoa Sheets
Added Spinnaker halyard, ratchet block, and used spinnaker pole 2021
2 x Lewmar 48 self tailing Genoa winches 2 x Lewmar 40 self tailing on coachroof 2 x Spinlock jammers on coachroof All lines are fed to coachroof
Winches, jammers, and tracks serviced regularly by owner
Spare Lewmar teeth and springs
Electrics
12 & 220 Volt systems
Charging by shore power battery charger, alternator, and solar
Domestic: 2x 160Ah Mastervolt AGM batteries (new in December 2022)
Engine: 1x 74Ah Bosch starter battery (2019)
Ecoflow Delta Power Station 100Ah (lithium) (2020)
Dolphin shore power battery charger
Lorentz LA90-125 solar panel, max output 90w
High Output Sterling Alternator Controller
Victron Argofet Battery Isolator in 2019
Victron BMV 712 Smart Battery Monitor in 2020
Victron MPPT 100/50 Smart Charge Controller in 2021
Victron Phoenix Inverter Smart 12/2000 in 2021
IVT Switching Station US-16 3600 in 2021
New 70mm2 wiring, bus bars, fuses, and battery switch added to accommodate for higher loads and improved battery setup in 2021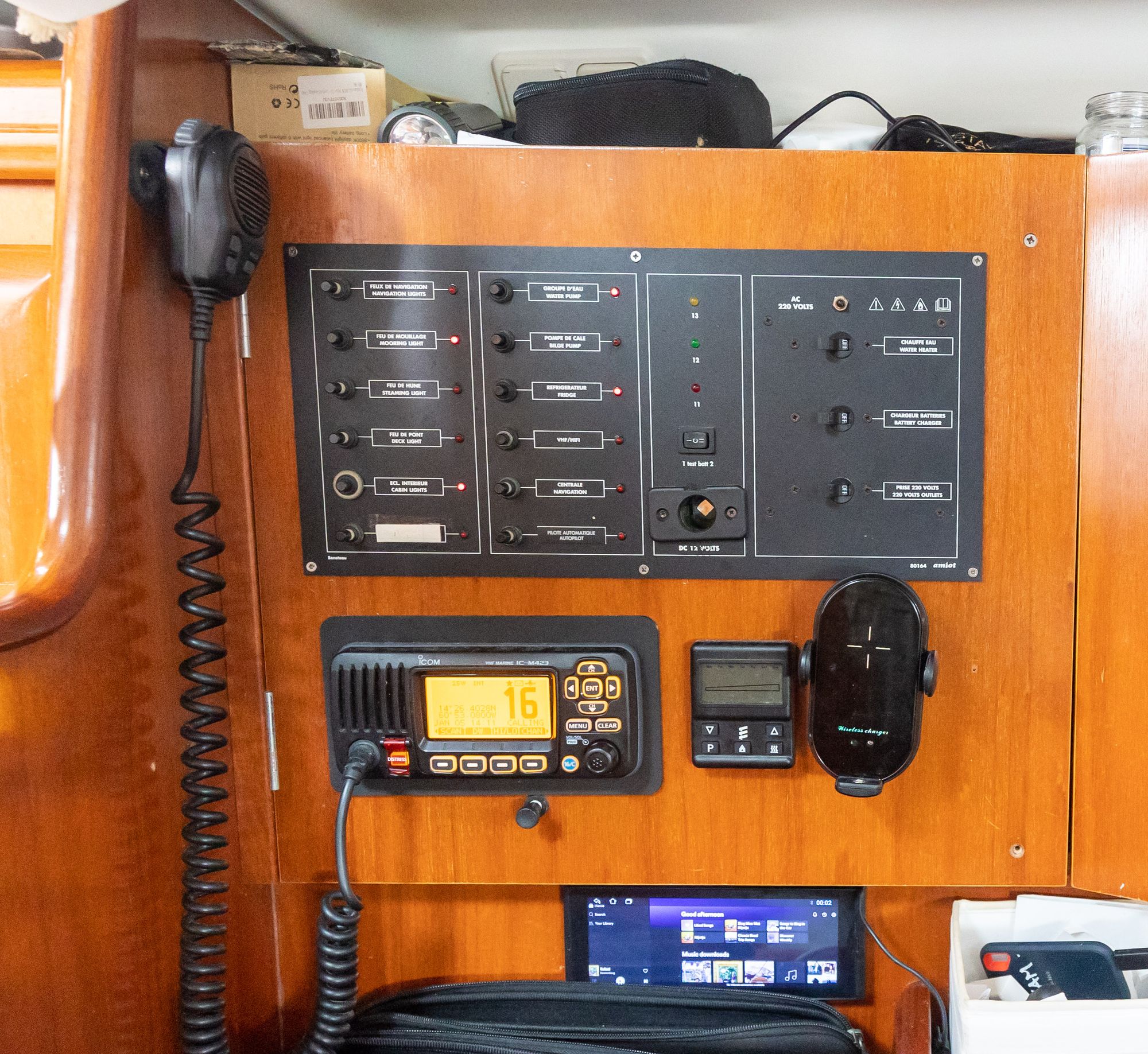 We overhauled the electric system before we crossed the Atlantic. We added bus bars and changed critical backbone wiring to new 70mm2 marine wire. Also we added a new mega fuse along with the new 2000W inverter and installed a new battery main switch on the domestic batteries.
We installed an automatic relay switch to the shore power wire to bring inverter power straight into the boat's 220V system without manual effort. All of the boat's 220V sockets are usable when on inverter power. Next to that we installed an additional always-on socket at the inverter.
Wires were professionally crimped and cut to size by Rolnautic in Gran Canaria.
Next to the domestic AGM batteries, the boat comes with the Ecoflow Delta Powerstation. This is a 100Ah lithium battery with 2 charging inputs: up to 1000W AC fast charge input and DC charge input, plenty USB outlets, a 12V car socket, and a 2000W integrated inverter providing power to 6 international 220V AC sockets. This compact power station charges up through our domestic bank and provides lithium power to cook on induction and use the electric kettle. This way we don't stress our domestic AGM bank but use high loads only through the Lithium power station. It acts as a "power cache" providing pure sine 220V up to 2000W, while being slowly and gently recharged by excess solar power.
Navigation Equipment
ICOM IC-M423 VHF (2015), added Cobra GPS antenna 2021
Seapilot AIS Transceiver CTRX Graphene (2021)
B&G Network Quad Log, Wind, and Depth Instruments
Echosounder
Raymarine RD218 Radar (second hand, professional service during purchase, installed in 2021)
Raymarine C80 Chartplotter displaying AIS, wind, and depth via NMEA0183 bridge and radar via direct connection
B&G Hydraulic Ram Network Pilot Autopilot
Full LED light conversion (Mooring Light, Steaming Light, Deck Light, Navigation Lights) 2021
Olympic 135 compass
Domestic Equipment
Eberspacher diesel heating DL3C with control panel on nav table and outlets in salon and cabins
Quick Nautic boiler/calorifier 23ltr capacity
Oceanair blinds on hatches + portlight curtains
DIN1 sized Android radio with GPS (2021, can run Android Navionics as backup) and stereo speakers inside
LED stripes in sleeping cabins (2021)
LED conversion of interior lights (2020/2022)
very bright LED pantry light (2022)
several USB charging outlets in saloon and in forward berth (2021)
Hidden USB ports behind nav desk for permanent charge (e.g. a sat phone or mobile router)
Barigo Barometer and Clock
Eno 0420 safety cooker & oven, 2 burner gas hob
Double stainless sink
Kitchen tap with additional active carbon filter outlet 2020
Frigoboat fridge, very cold, new in 2019
Cutlery, crockery
220V kitchen appliances including induction cooking plate, blender, kettle etc.
Induction Charger for phones at navigation table
Deck
Lofrans electric windlass X2 Alu 1500w (2015)
16kg Delta anchor
70m 10mm galvanized chain (2021)
5kg Fortress anchor FX16 with 6m 8mm chain (2016)
5x 20 liter spare diesel canisters
10 liter spare dinghy fuel canister
20 liter spare water canister
Various warps and fenders
Deck shower on stern (new shower head 2022)
Simpson outboard davit 35kg with swivel and pulley
Folding cockpit table
Swim ladder
Boat hook
Spinnaker pole stored on stanchion mounts, outside of deck
Waterproof cockpit stereo speaker (new 2022)
New big full width Bimini in 2021
Spray hood serviced and improved in 2021
Winter covers
Sun blocking Bimini enclosure to stern, Rain blocking Bimini enclosure to connect to spray hood
Lazybag (new zipper in 2022)
Various Winch covers
Fishing rod holder + fishing rod
Sturdy stainless solar arch (2021)
Gas locker (designed for 2 but holds 3 campingaz bottles)
Induction charger for phones at helmstation (2021)
Waterproof Scanstrut ROKK USB Charger in cockpit (2021)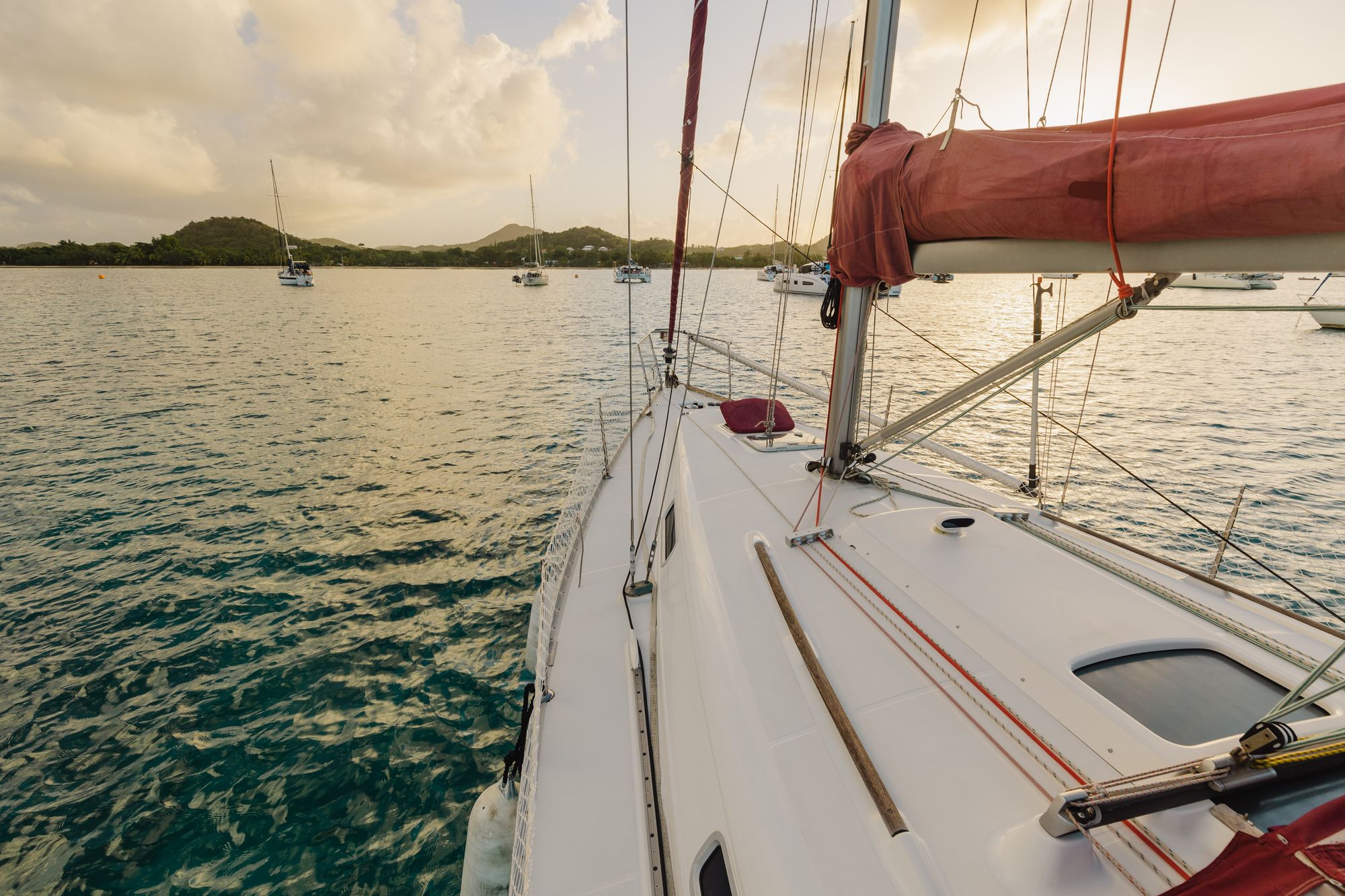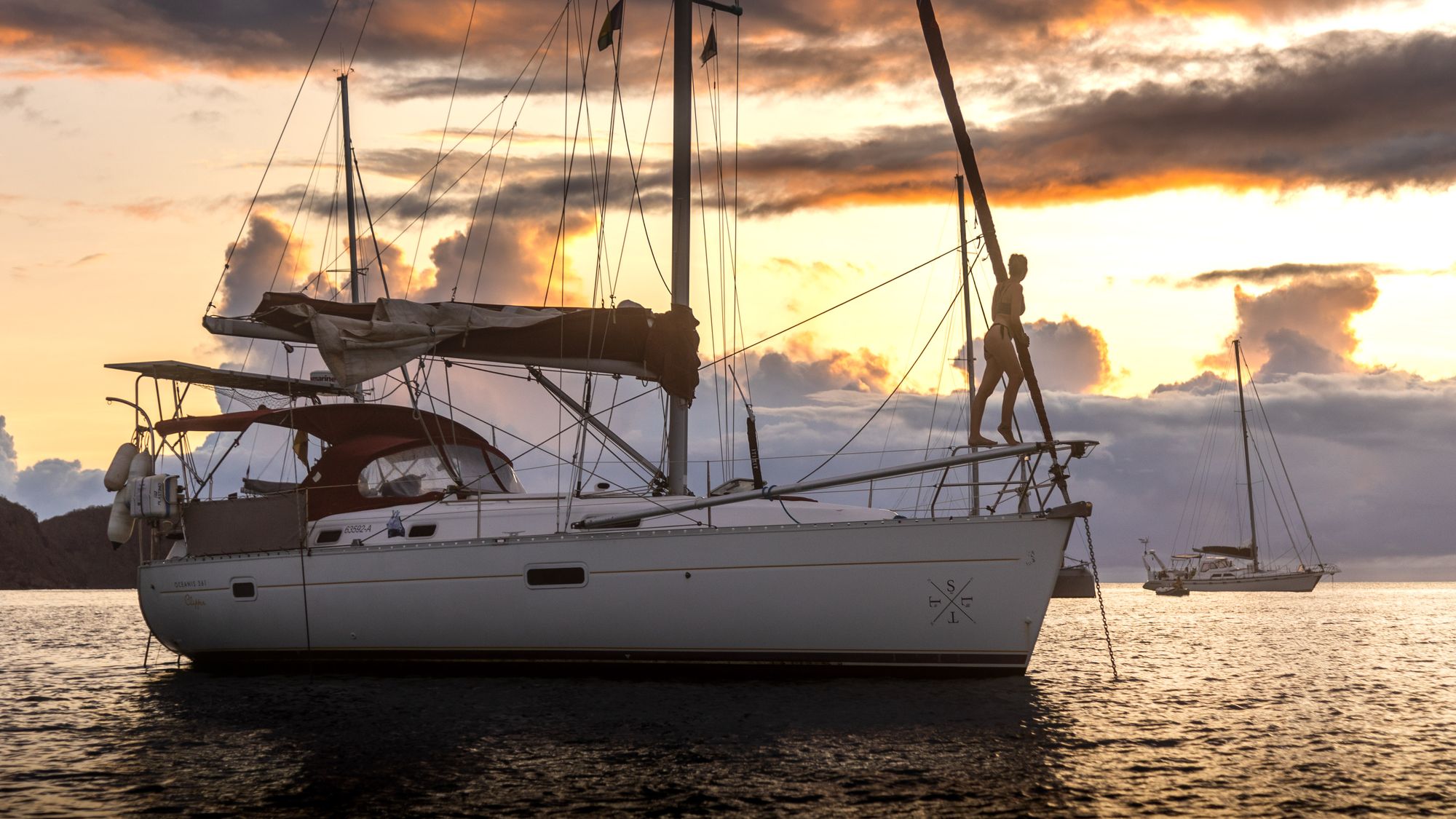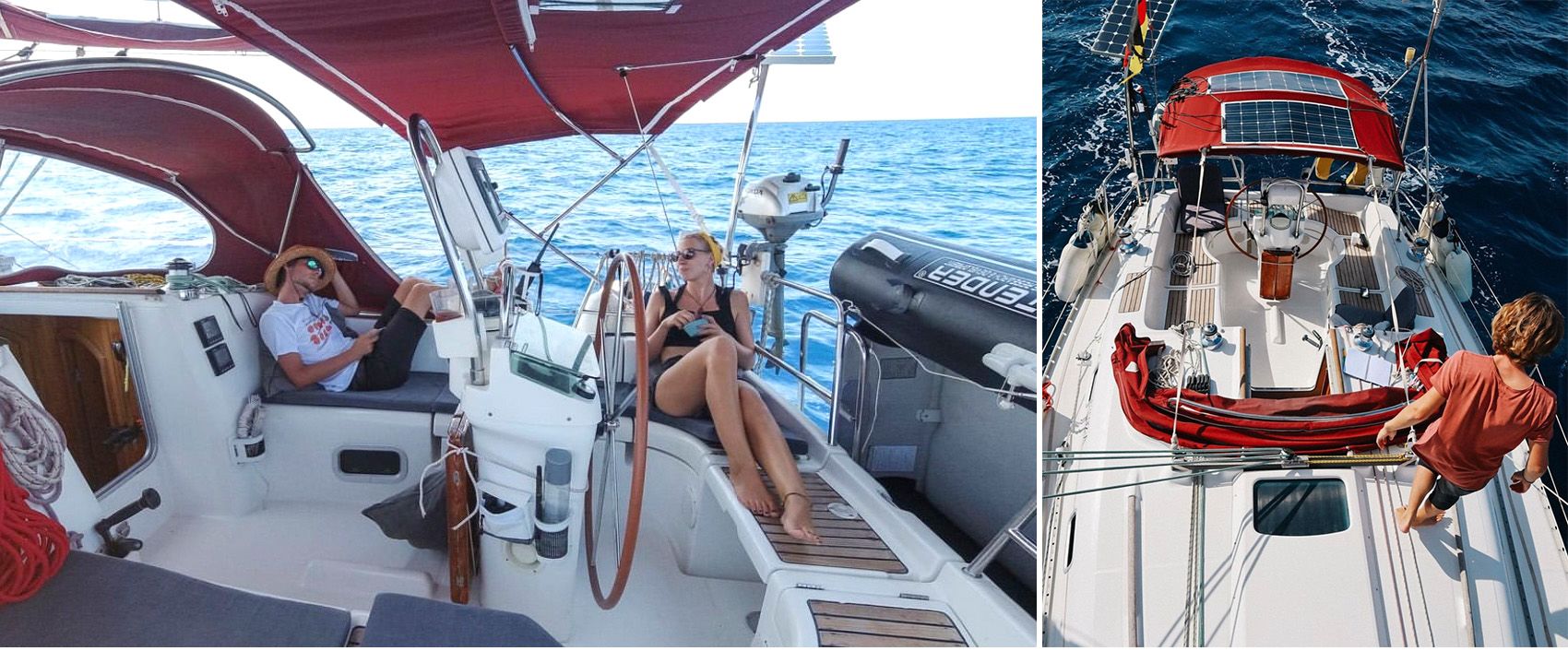 Safety Equipment
4 Person Plastimo Cruiser life raft (full service before Atlantic Crossing in 2021)
2x fire extinguishers 2kg (powder)
1x 1kg fire extinguisher (powder)
Manual bilge pump
Electric bilge pump, added automatic Eco Switch
Additional automatic high output bilge pump (2021)
McMurdo G5 EPIRB (full service and battery replacement before Atlantic Crossing in 2021)
Jackstays
Jonbuoy self inflating with LED
4x self inflatable life vests
2x 3-point tethers
2x Ocean Signal MOB1 AIS & DSC Transmitter Personal Locator https://oceansignal.com/products/mob1/
Ocean Signal EDF1 https://oceansignal.com/products/edf1/
Firdell Blipper radar reflector
Emergency tiller
Netting along the lifelines (beautifully done in 2022)
Carbon monoxide detector in pantry
We strongly suggest for your own personal safety that when purchasing a yacht you provide new safety equipment rather than relying on second hand gear. The condition or level of safety equipment on board is not to be negotiated on following survey. It is likely to be listed by most surveyors but safety equipment is not structural or an integral working part of the vessel. It is not to be used to negotiate price.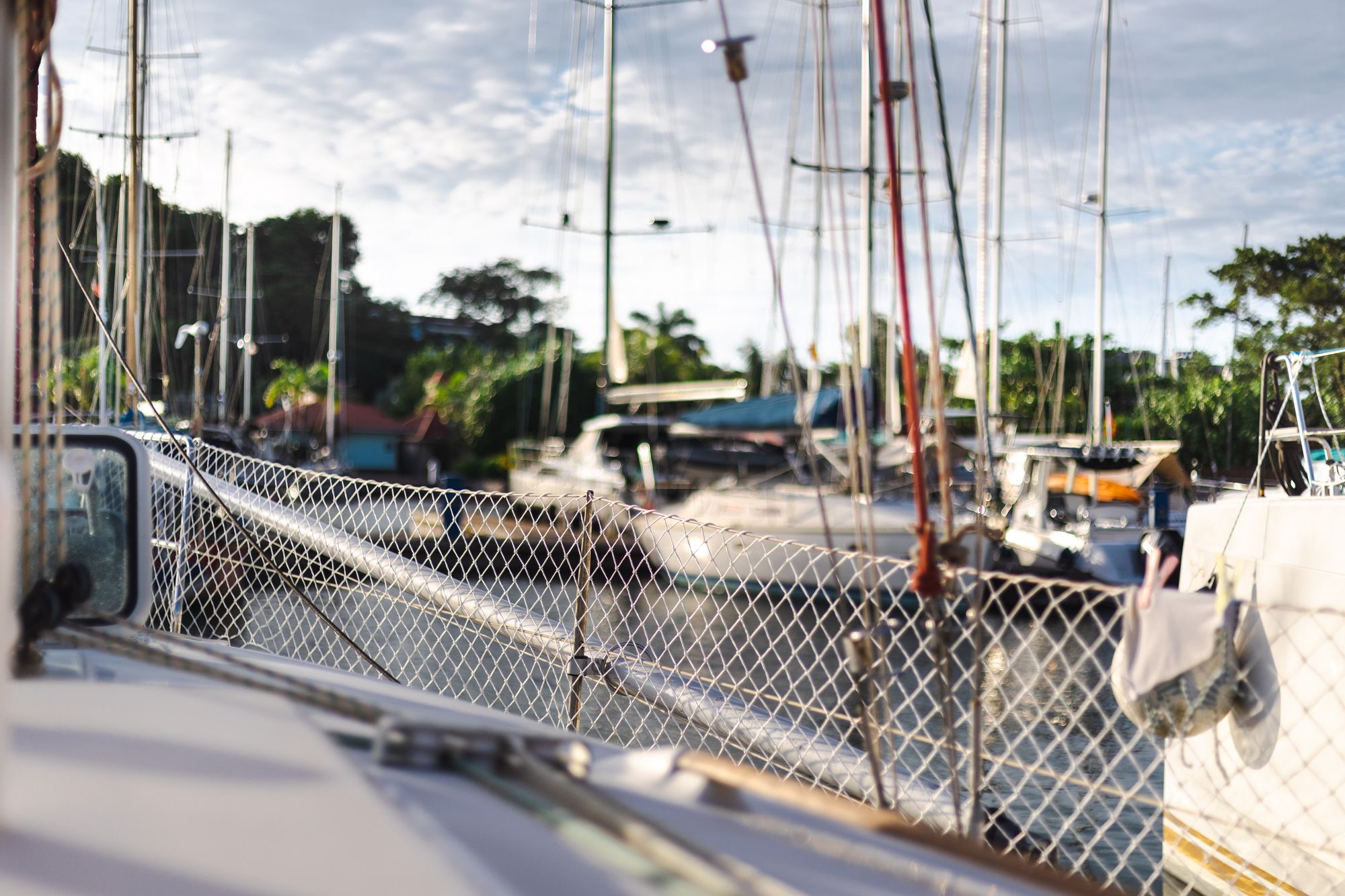 Tankage
Fuel: Single tank 76 ltrs (20 gals)
Water: 2x tanks total of 320 ltrs
Holding: Single tank 50 ltrs
Lots of spare canisters stored in locker and lazarette, listed under "Deck"
Accommodation and Liveaboard Comfort
Standing height is approximately 1,93m throughout.
From factory, the Beneteau Oceanis 361 Clipper accommodates for 6/8 in 3 double cabins and saloon seating that converts to a double. After conversions for full time cruising, one cabin has been transformed to storage and equipment. Blue Juice currently accommodates 2 grown ups and 1 kid, full time. During our Atlantic Crossing, Blue Juice accommodated 3 grown ups and 1 baby.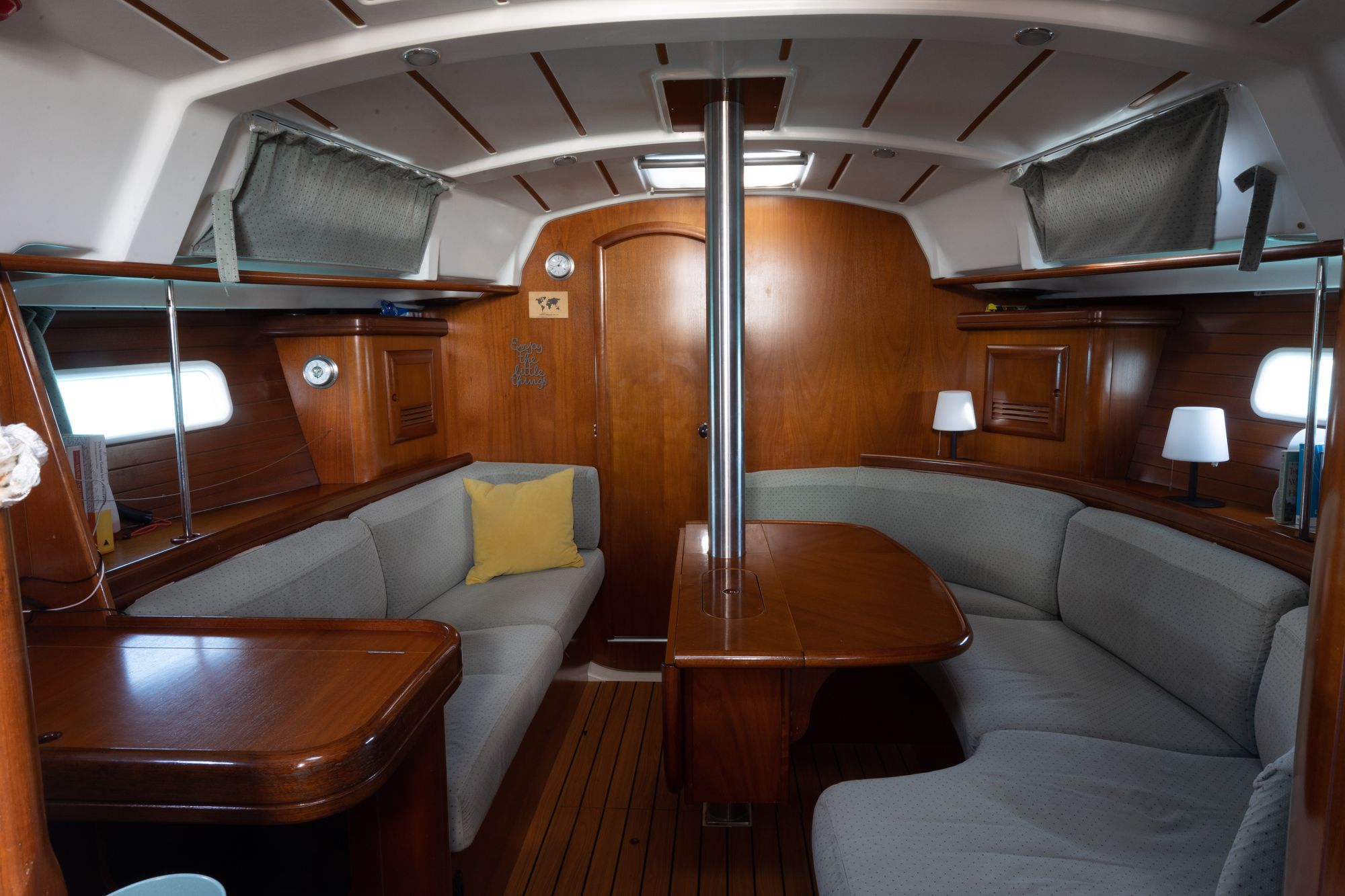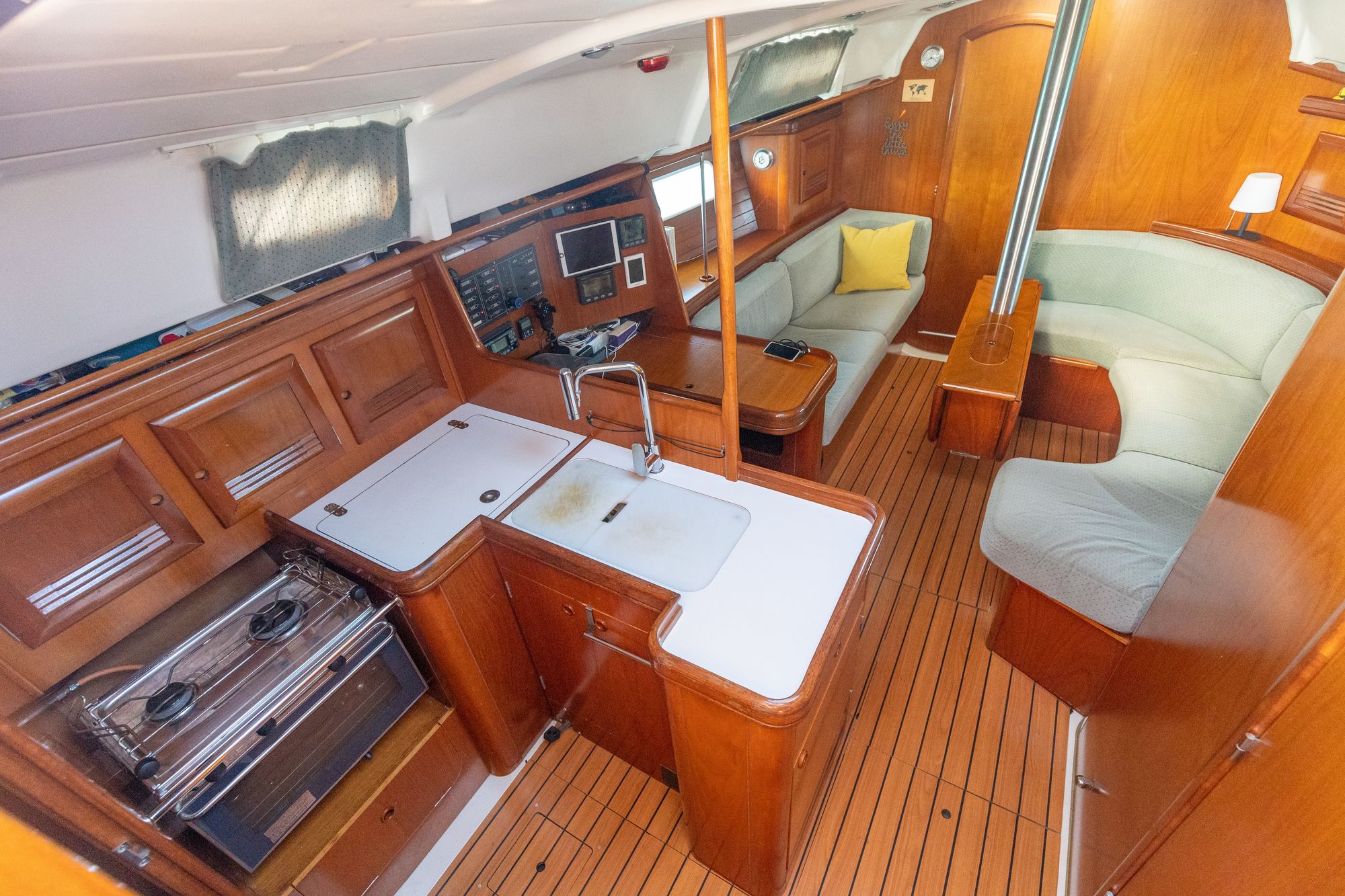 Other than the American built 361s, the European Build has a folding saloon table allowing for either plenty of dinner guests, or walking space, or sleeping accommodation, depending on current need. The benches offer lots of storage below seating.

We put in a new mattress and memory foam topper in the forward cabin in 2020. New memory foam topper in aft cabin in 2021.
We added shelves to all closets and added boxes to increase storage. No more wasting space with hanging closets.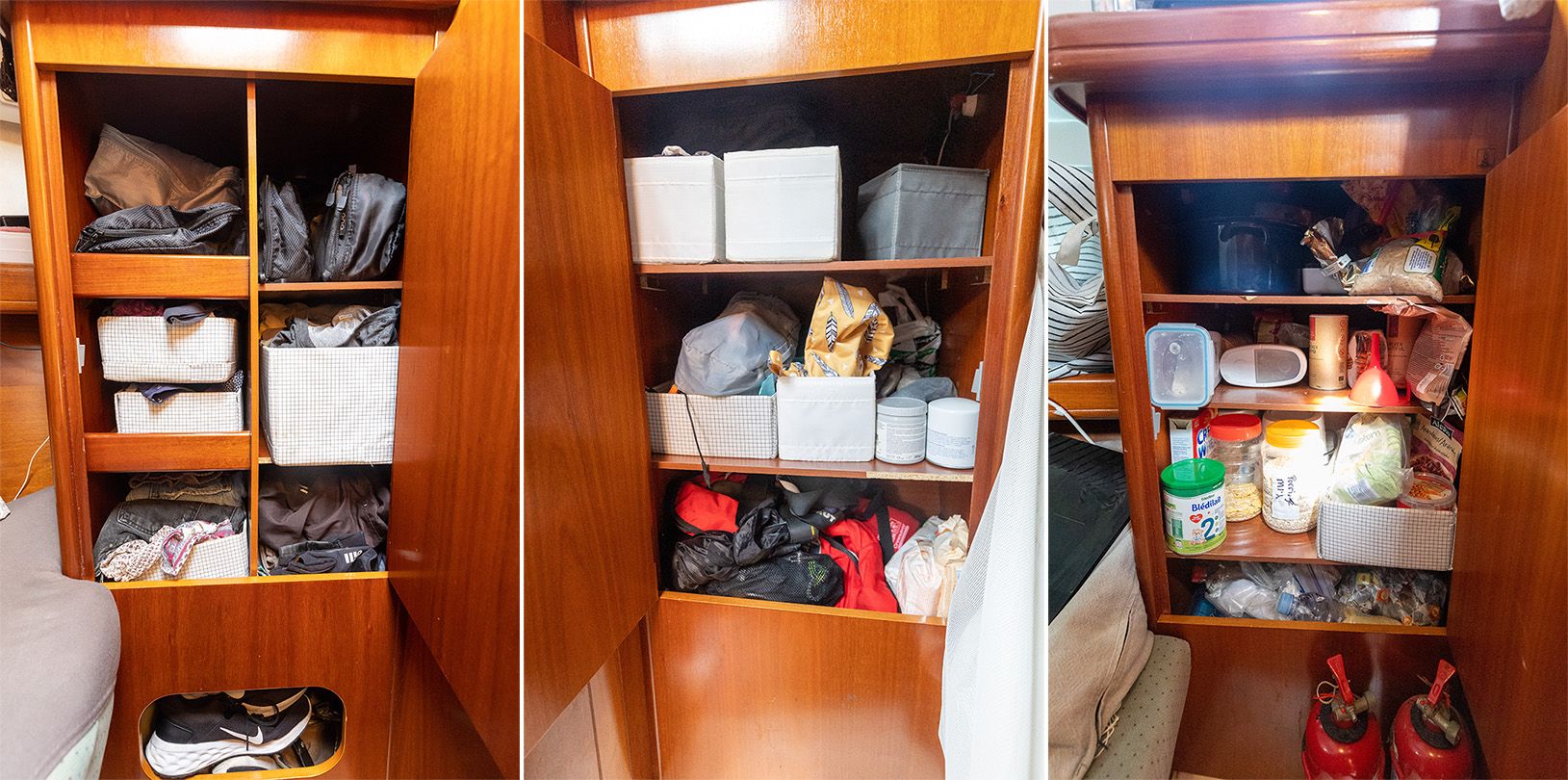 Lots of minor improvements have been made to increase comfort and safety for a young family when cruising with a baby. To buckle up the baby when sailing gets tough we added an isofix attachment to the forward bulkhead to clip in a baby car seat.
We turned the back cabin into a safe and cushy baby room by adding ambient lighting and a big lee cloth.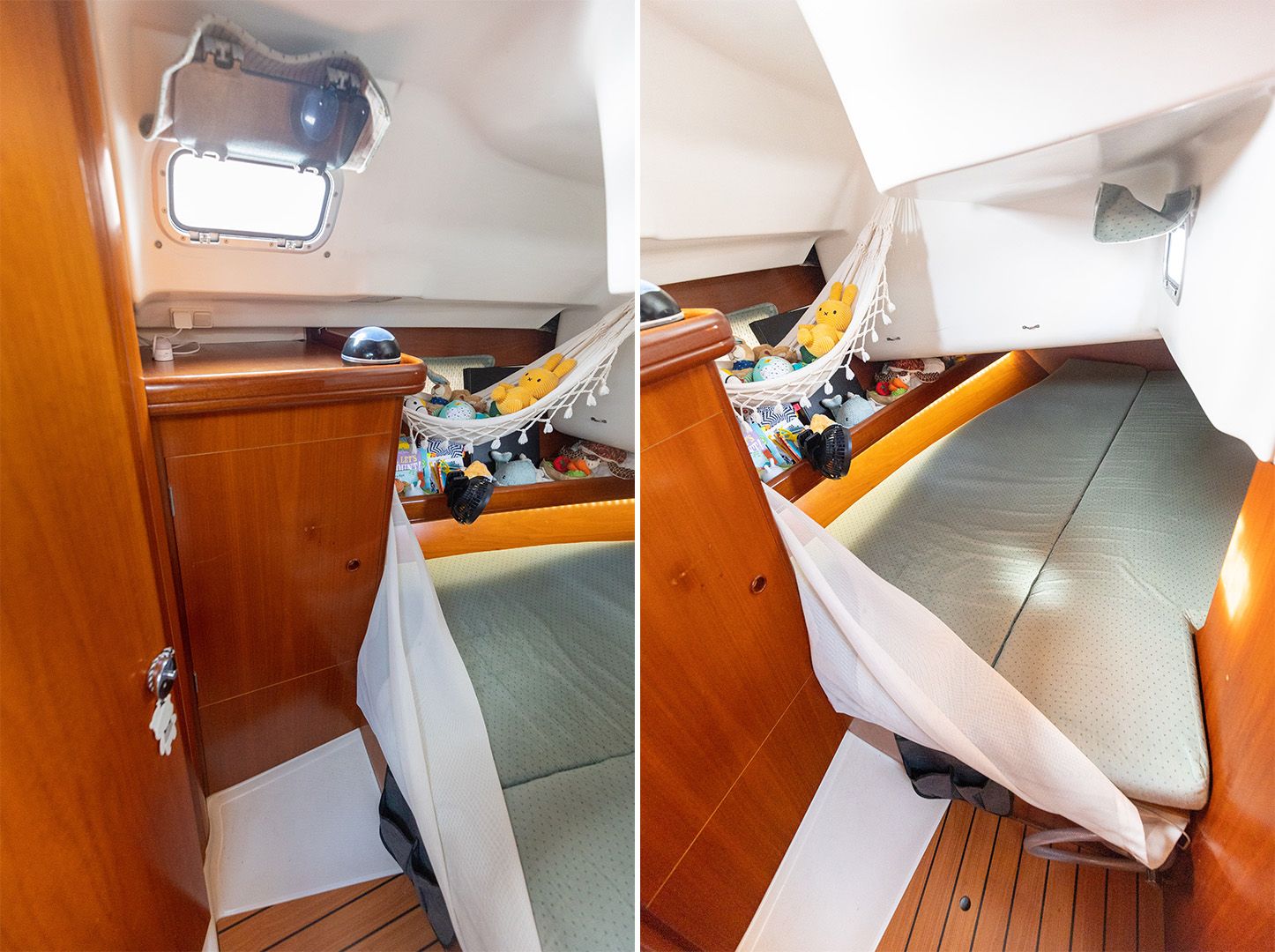 The bathroom is one of the best features of this boat. Bigger than most bathrooms - even on bigger boats - this layout separates heads, sink, and shower. The shower has plenty of cupboard space and offers a bench to sit on. When cruising full time and/or with a baby, this big wet room is immensely valuable. Showering or bathing the little one (or yourself) is easy and comfortable.
The Jabsco toilet and its hoses are regularly treated, have never clogged and don't smell. The shower drain hose feeds directly into the drain pump, so there is no smelly shower sump/bilge.
We added lots of IKEA TISKEN storage solutions to maximise utility and space.

There are lots of improvements in the pantry in regards to storage space. We made lots of space for cleaning supplies and utensils below the sink. The storage cabin is at arms reach where the cupboard holds lots of kitchen tools and provisions. We changed the tap to a high faucet which makes doing dishes more easy than before, especially high pots. We added a carbon filter to switch over when water is used for drinking or cooking. The filter is long lasting and replacement filters are available.

Watermaker
In 2021 we installed an h2o Factory ex2 12-21 watermaker. It runs on 12V using around 15 Amps, producing 15L per hour, up to 20L in good conditions. The watermaker is connected to a seacock inlet for the seawater feed, the sink outlet for the brine water. The permeat feeds directly into the aft water tank. We also installed a 3 way valve to feed the permeat to a direct testing outlet inside the boat, to tank, or to both. The fresh water flush is connected to the outside shower hose. Cleaning the membrane with alkaline or acidic cleaner is simple thanks to Speedfit hose connectors. There are no loose hoses to set up when making water and all buttons and valves can be reached from inside the boat. There is no need to run the engine when making water.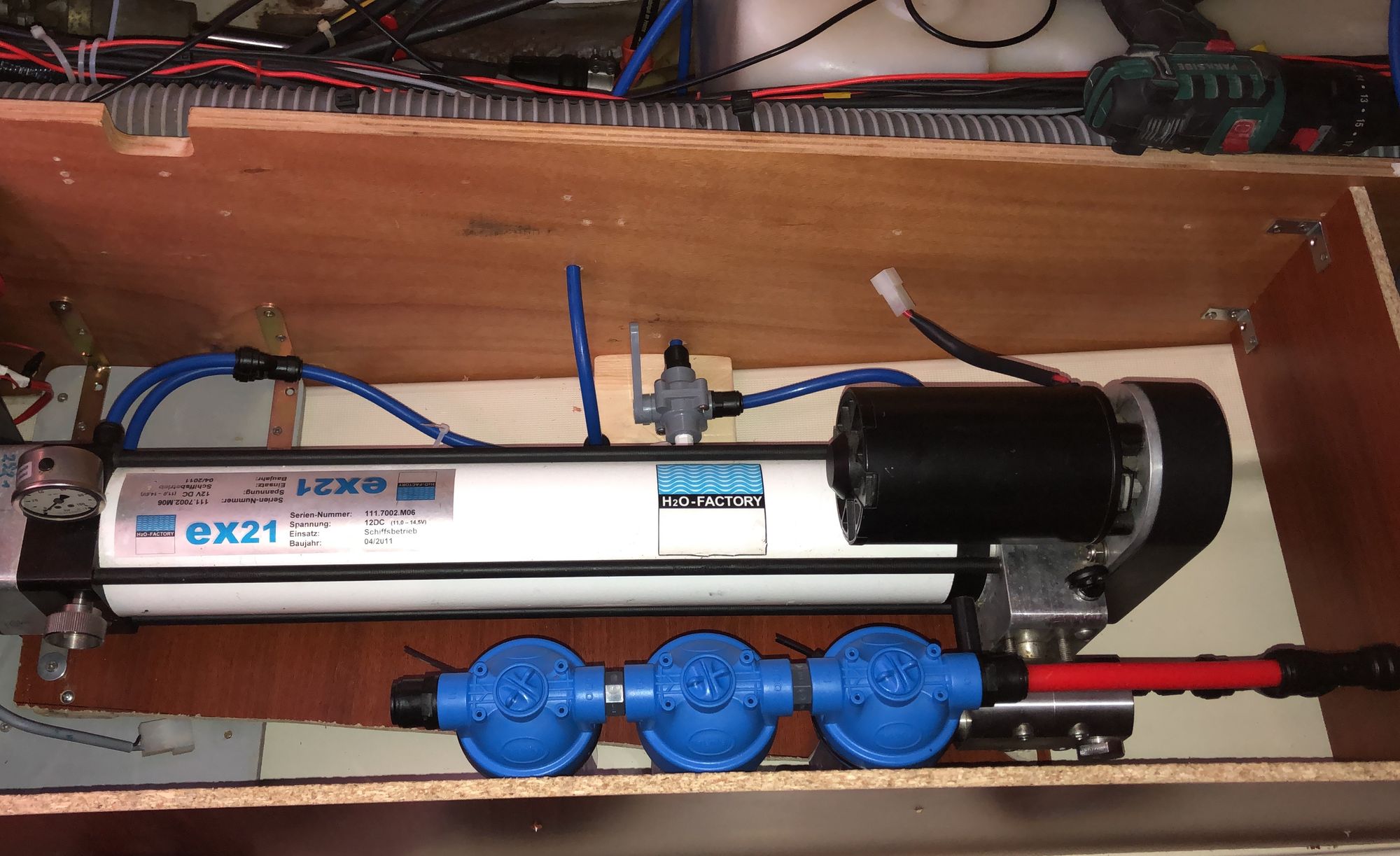 Wind Vane
We installed a Hydrovane in 2021 for the Atlantic Crossing. It is very sturdy, reliable and easy to use. On the crossing, the Hydrovane steered 90% of the time. Rudder and Vane are kept inside when not in use and are therefore in like-new condition. We added Dyneema tethers to make sure moveable parts are not lost.
An unused Offshore Replacement Kit is included in spares.

Tender
Serviceable 3,20m AB Tender, fiberglass bottom, Hypalon, repainted
Serviced and reliable Yamaha 6HP 4-Stroke Engine with new fuel pump 2021, new mounts 2021, refurbished lower unit 2022, spare anode, spare prop
12L external fuel tank
Magnetic battery powered navigation light, sticks to outboard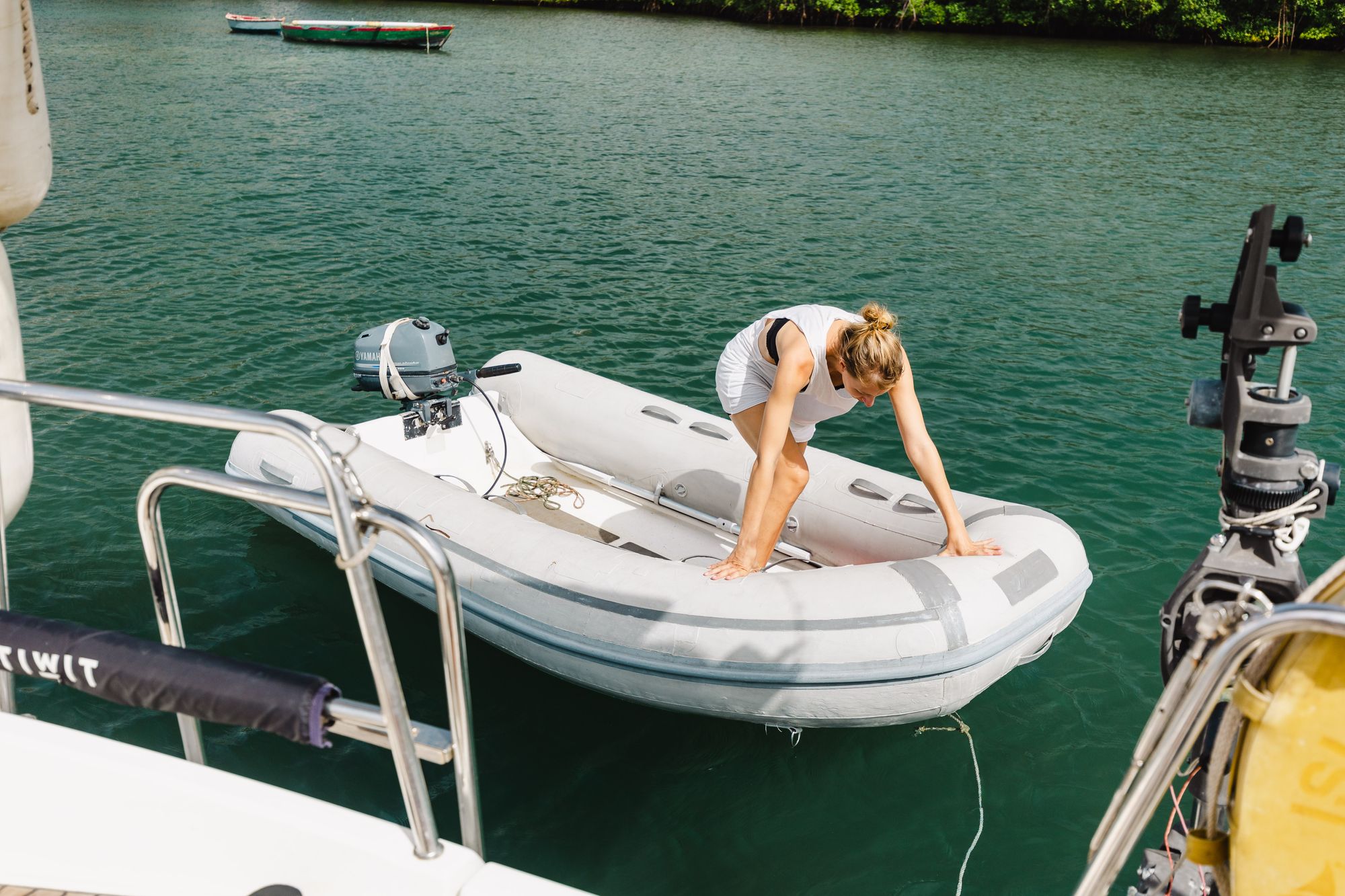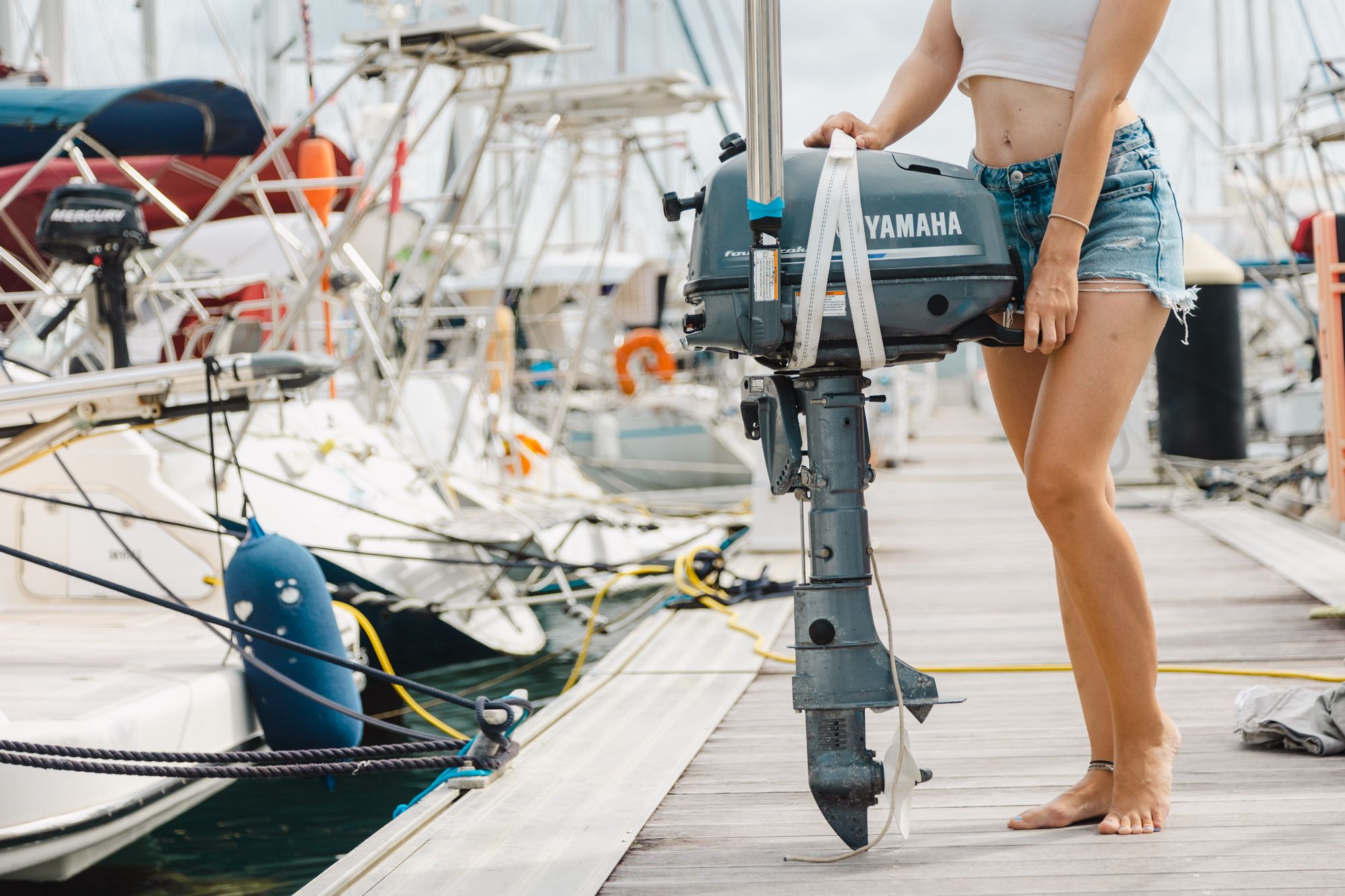 Various
Countless lines, stainless bits and pieces, screws, tools, blocks, goop & goo, lubricants, oil and other spares. Foldable Strida bicycle, e-scooter, 2 pairs of freediving fins, goggles, weight belts and many more gadgets on board. Sheets, pillows, covers, USB-charged outdoor lights,...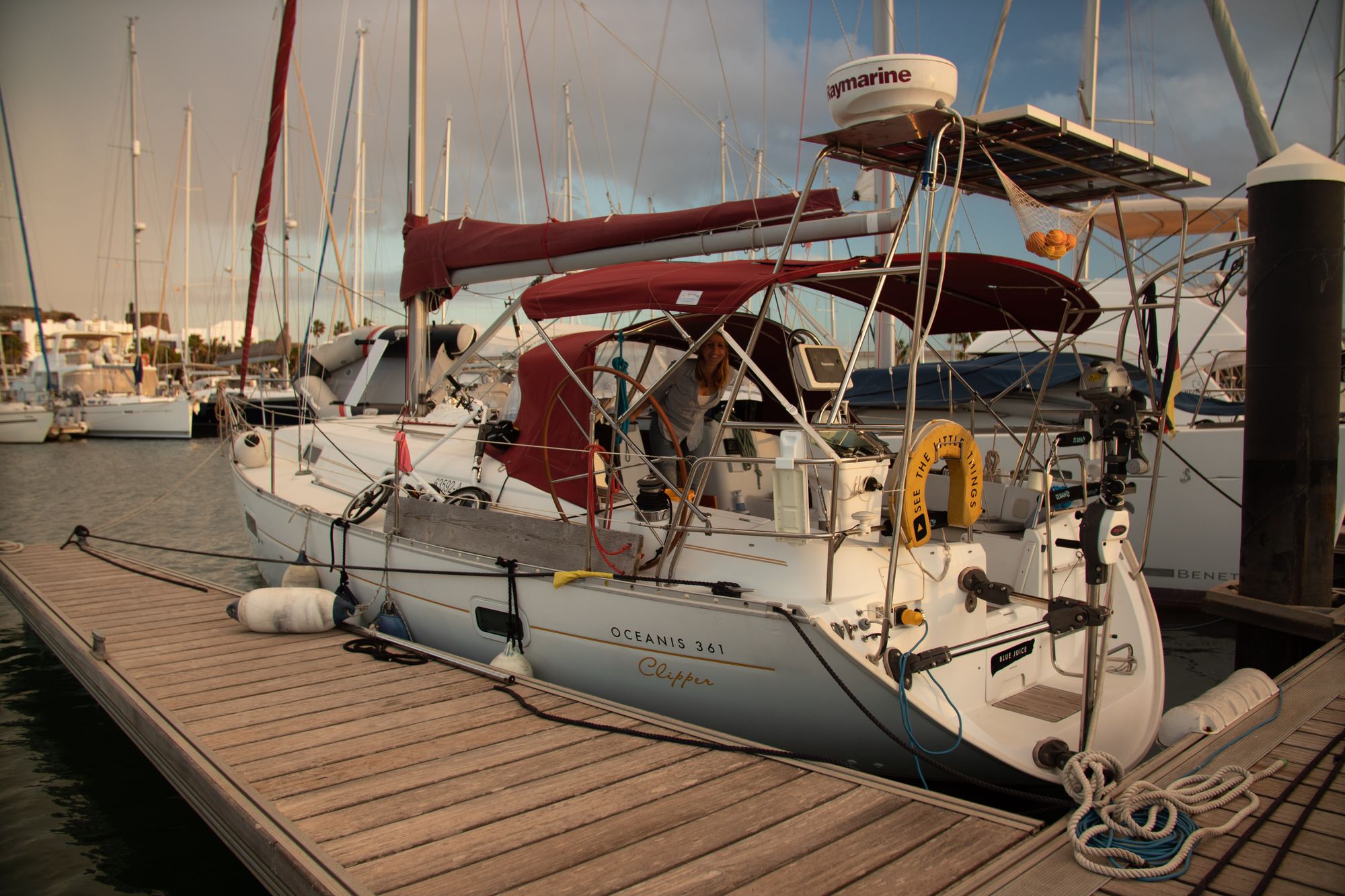 Surveys and Documents
Brochure
Oceanis 361 Clipper Brochure
General Equipment List
Oceanis 361 Clipper Equipment list
Survey
Our 2018 purchase survey will be provided to serious buyers on request
Manuals
Manuals of almost every equipment included
Documentation
The boat's history is well documented.
All bills of sale
VAT invoice from Ancasta UK to 1st owner
Copy of Builders Certificate
Copy of Beneteau Certificate of Origin
Declaration of Conformity
Previous surveys and reports of safety inspections
We offer the details of this vessel in good faith. Whilst every care has been taken in their preparation, the correctness of these particulars is not guaranteed. The particulars are intended only as a guide and they do not constitute a term of any contract. A prospective buyer is strongly advised to check the particulars and where appropriate at his own expense to employ a qualified Marine Surveyor to carry out a survey and/or to have an engine trial conducted which if conducted by us shall not imply any liability for such engine on our part. This vessel is offered subject to prior sale, price change, or withdrawal without notice.
Upon viewing, we will be still living on the Blue Juice. Personal belongings will be taken off before handing over the boat and are not included.
Please contact us to book an appointment to inspect the yacht before you book flights or pay for travel. This is to ensure you have a confirmed booking in our diary with the right amount of time allocated to inspect the yacht you want. Our yacht is not in one marina, yard or harbour and in season changes locations. To avoid disappointment, call or email before you make travel plans.